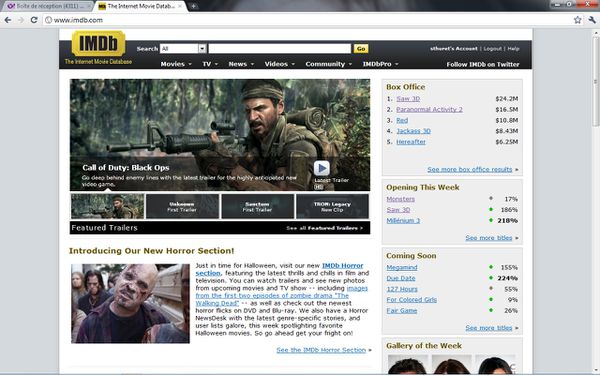 Sometimes an image speaks for itself. But for the ones who don't see what Im talking about, here it is.
When Resident Evil 4 was released back in 2004, I imagined that soon we all would get back to the theaters... to experience a game played by someone present in the very room. And if the Museogames showing in Paris allows goers to see what games are being played by others, on large screens, this forecast has not materialized yet.
My point here is that Imdb has been archiving games for a long time now, with a rather bare presentation : no front cover or visuals and no summary most of the time. But to my knowledge, this is the first time that it gives a game the "frontpage" treatment, just as another movie/blockbuster.
There's sure to be a massive partnership with Activision behind all this, as the game is indeed lauching to great success. According to the french news site Gamekult, its "day one" sales are smashing Modern Warfare 2's. But the move is nonetheless meaningful, especially if you take Imdb's recent slight makeover in consideration, which gives more room to "highlighting" movies, and now games, this way.
In his book Des Pixels à Hollywood, Alexis Blanchet reminds us about the cynicism of some the 80's and 90's movies dealing with videogame culture. While promoting a game or a brand, these flicks, like Videokid or Mario Bros, always send a message about gaming being a little bit wrong, which is ambiguous to say the least.
Edgar Wright's latest movie, Scott Pilgrim Vs the world, erases all of this. Gaming culture is not just a reference anymore. It is narrated and integrated as a very part of our world and lives, and never bear the mark of the ambiguity found in Videokid. Apparently, the movie bo-bombed at the US Box Office, facing Stallone's Expendables. Is the world not ready yet to hear such a bold statement? The lack of a big bankable star in the cast, the Michael Cera overdose and the fact that Edgar Wright, as a non-american director, took 85 millions of dollars to show off his geek vision of the world to everyone, may explain a few things as well. But Im a 99,9 % sure that this movie will make money, and tons of it, in blue ray and in the long run. At least I hope so, because I want to see another pee bars in a movie.
And now Call of Duty Black Ops is on imdb's frontpage. Sometimes an image speaks for itself.
ST
November 2010
SOURCES
Black Ops' sales smashes Modern Warfare 2:
http://www.gamekult.com/articles/A0000088731/