The return of vinyl culture?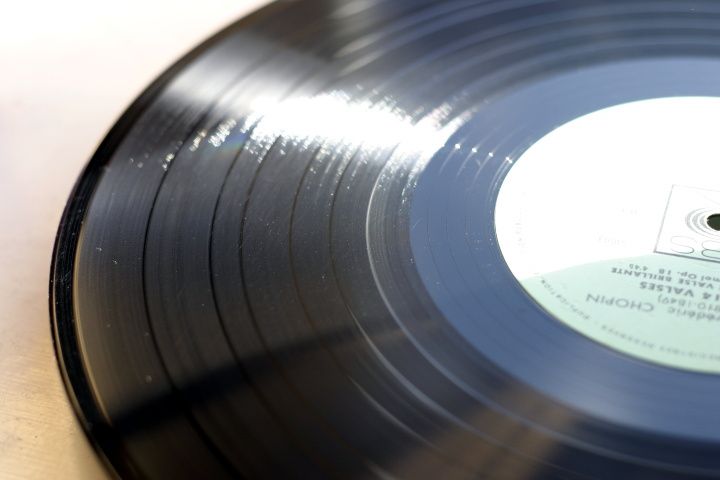 "Everybody needs a bosom for a pillow, and mine is RPM!" These lyrics, outta Cornershop's signature song Brimful of Aisha, embody the seemingly neverending love of the vinyl culture. The solid newsreport that follows asserts theres a niche market all over the world, craving for the return of the mighty analog schallplatte, still going strong in the age of Itunes and streaming services.
As I received my own mint Rega turntable today, in order to finally taste the small vinyl collection I could gather these last ten years, I made some research about it and stumbled upon this very interesting CBS newsreport, originally broadcasted in february 2008: http://www.youtube.com/watch?v=tggLYE87Ed0&feature=related
Come to think of it, it's true that vinyl records never really left. If you look around you, you may get some hints. Like this summer's national operation at la FNAC, the french counterpart of HMV, which proposed a fine selection of freshly produced vinyls, from classics such as Patti Smith's Horses to Mazzy Star's So tonight that I might see.
Or the case of Thorens, a brand who has been associated for decades with a rock solid reputation as a turntable manufacturer... before nearly dying in the 90's a the result of the CD booming industry. But the brand rose from its ashes in 2001 and has been shipping brand new products ever since. And if you talk to my local record dealer here in Aix-en-Provence, well, he claims that 15 year olds keep asking for more and more vintage music on vinyl, just like the kids stealing Gainsbourg & punk LP's in the 2000's movie High Fidelity. And while music is derezing, to quote Tron's vernacular, producing vinyls is maybe seen as a solution to "sell" music again, branded as the ultimate authentic product toward music fans. What follow is an indie vinyl sales chart produced by Nielsen rating in 2009. And it quite speaks fot itself: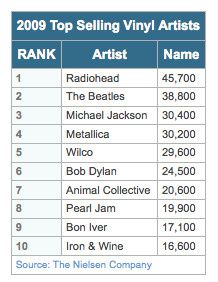 But why going back to such an "inconvenient" technology compared to the on-the-fly, anything-anywhere standards of today? Is it only a marketing tool to get "a piece of the pie"? The final comment made in CBS's report kind of explains it all: "it's too wonderful of a medium". Henri Langlois, founder of the French cinematheque was well aware about the evolution of film technology and he used it to great results, saving movies and optimizing them by making new and cleaner copies out of scaterred and sometimes damaged original prints. Nevertheless, could he give up on them old prints? Of course not. Because there was a time when the content was magically associated with the object containing it, like a sceal. And the experience was the "happening" of the whole. Today Scorsese himself wonders about blue ray's incredible possibilities and what should be done or not to restore or even enhance movies through technology.

"But then, I ask myself: if (these filmmakers) had had access to the kind of technology we have today, would they have eliminated some of the grain from the image? In all probability, I have to admit that yes, they probably would. So, the question seems to be: which way do you do? Do you conform to the realities of film stock and do your best to recreate them, or do you look at it creatively and think, "What would this movie look like on an ideal level, if the people who made it had access to machinery that would have given them more control over the image?" Honestly, I don't know the answer. But I think it's important to realize that choices have to be made, at every level and all the time, and no matter what the final result is, it will never be definitive".
The same issues goe for books, videogames... and records. The possibility to have thousands of albums in your pocket, through downloads or streaming cloud-computing services like Spotify, is something truly amazing. Remember the part in the first Men in Black, back in 1998 when Tommy Lee Jone's character shows a microscopic device and suggests that it holds the Beatles discography? Well, we just got there, and it's no alien tech. But having a real blast-from-the-past object in the palm of your hands, with its original sparks and own limitations, is another wonder that should not totally disappear.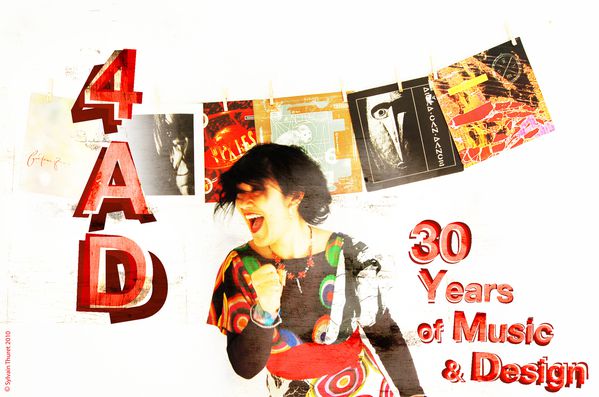 Photo: Sylvain Thuret; Title work: Alexandre Thomassin; Model: Ariane.
4AD: from analogic to digital... to analogic
Celebrating its 30th birthday in 2010, 4AD is one of the most sought after & prestigious English labels. And its position in the music business is very representative of the current situation. Born in 1979 as an independant offshoot of Beggars Banquet, they gave the world three decades of passion and wonder, producing some of the most exciting and original music of this era, with the likes of Bauhaus, Dead Can Dance, The Pixies or Tarnation and Mojave 3 in the 90's to quote a few. And each decade meant a true cultural and marketing challenge for a label universally known for their spearheading vinyl years, as the disc media went through major changes, from Lp's to Napster technology.
Hot on the heels of what Factory had just done - selling Joy Division records with an artsy approach up on the cover sleeve - they took notice and went further with incredibly other-worldly creations, courtesy of designer Vaughan Oliver and fellow photographers Nigel Grierson, Simon Larbalestier, Chris Bigg and Jim Friedman. As read in the book Visceral Pleasures by Rick Poynor, "Ivo Watts-Russell and Vaughan Oliver (the label's founders) believed that the label's commitment to quality and respect for their audience should be reflected in the standards of packaging."
With this high profile artistic work, 4AD had to adapt to each format, seeing the space allowed to original artwork shrinking to what a cristal CD case would allow, up to no tangible media at all come the MP3 players and download customs. If yesterday was about music as a whole experience, transforming the trivial vinyl object into a collectible piece of art, 4AD took advantage of the available technology in order to stay in the picture. Hence the remarkable effort and energy early put in their very website, reflecting their commitment to style & substance. This approach of the web platform, expressing the label's identity and values, is to be found on their own signed bands, like The Big Pink's website: http://www.musicfromthebigpink.com/.
Moreover, the label use video platforms like youtube to broadcast their band's videos, directly to the audience. You must take into account that being a french native, I have NEVER seen a 4AD video in France, except one time in the 90's when M6 was still playing cool stuff way after midnight. It was Song to the siren by This Mortal Coil and it made me buy their album It will end in tears on CD (now out of print, so it seems), starting my growing interest for the label.
Other smart moves have been the setting up of music downloads, newsletters, exclusive live showcases online and free downloadable samplers of upcoming releases. Having a specific "4AD" official, free and virtual mixtape in your ears is something of a great idea to bring people to listen to the bands, buy albums and go to the shows.
Youtube, that's where I found about Camera Obscura through their incredibly beautiful and instantly infectious single The Sweetest thing. I listened to it when I was in Paris having a lunch with my former lover, whom I'm still in love with after all those years, even if it's a dead end - place Inception here -. And it was in my head the day after, getting through this wrongly/happily strange feeling of leaving her and going to London, where I was greeted with love and kindness, got to see The Private Side live at the Troubadour, a very promising band by the way, and went up to 4AD's headquarters in Alma Road to submit a web programme idea that was at the core of this very research, lines and photograph. Though I didn't have a proper apointment, they took time to have me and develop about the coming 3Oth anniversary, and how I could fit into this agenda and should meet the bands and employees for interviews. Unfortunately, the project fell through in spite of my research and e-mails and It seems that the label didn't do much of anything about this anniversary, which saddens me beyond my own will to do something with them. As my mail contact Jeff Keibel / Fedge puts it, answering me about quoting his website and work : "It's very strange how there's been nothing done for 4AD's 30th birthday. Kind of a huge missed opportunity..."
Anyway Camera Obscura was there all along. I finally bought their CD after my London trip, My Mauldin career, last week. And man it's on par with yesteryears glory, as well as many other bands like Bon Iver or The Big Pink. So all is done to comply to the digital era, while retaining a certain signature as a quality driven brand.
A moving rendition of Bruce Springsteen's Tougher than the rest,
by Camera Obscura.
And If 4AD's mojo was ever something caught up on a vinyl, well, with Camera's and other new ace bands, the feeling is still there. But with the return of an ongoing vinyl demand, claimed by the aforemented newsreport, 4AD seems to take it seriously enough to produce limited series of recent releases in their historical format (see picture below).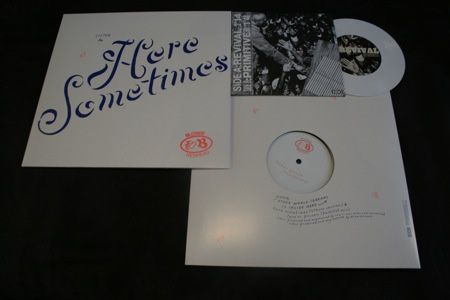 It's about pushing the digital enveloppe while maintaining the strong link with the die hard vinyl fans out there, what Rick Poynor calls "this intimate connection with 4AD's fanbase" in his book Visceral pleasures. A book whose title adresses a wink toward Peter Saville's work for Factory, said to be more driven by punks aesthetics and customs, while 4AD is more about reflecting and expanding the music's world right into the listener's psyche. Unfortunately my project to work on the 30th birthday of 4AD didn't follow through, in spite of my research and the incredible potential at hand.
But why would there be such a demand after all?
Well the CD technology is going through a severe crisis, which is hinted through price drops, lack of interest and the stronger and stronger Spotifies, Deezers and Iphones of the world. Right now it appears as the intermediate media between the cardboard cut sleeves of the vinyl, all with striking front cover visuals, liner notes and lyrics, along the disc itself, spinning to glory and magic, as if we were watching "the planet's course", and the dowloading/streaming somewhat colder file area.
This go-between position is becoming more and more uneasy for the CD, because people would rather go the easy way with Apple's range of products and services OR geeking out their parent's vinyl collection. CD's are still convenient. I personnally own a collection of 300 albums in this format and they are going cheaper by the hour, and that's why people like myself still buy them. But for how long? Within the next two to five years we will probably see their price drop next to nothing, while vinyl lovers will spend hard cash to grow their collection. Mostly because when an Ipod allows you to listen to just any music on the fly, which is really good, there's no ritual or intimacy happening, no "real" record collection to browse and gawk at a friend's or a lover's place... and that's why the vinyl comes back in the hearts of true music lovers worldwide.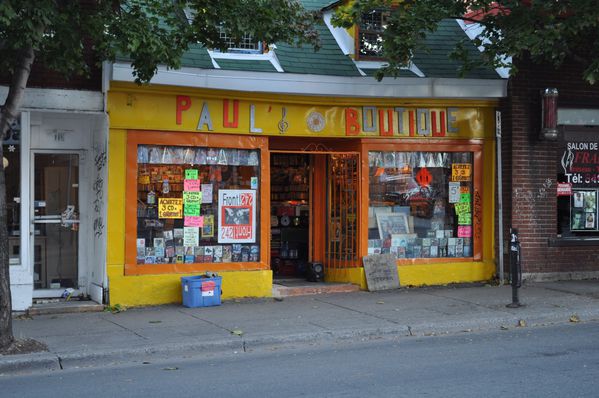 I was in Montreal in october 2010, looking for first contacts there as my seach for a proper job in France isn't going anywhere, and here's what Paul of incredible "bric-à-brac" Paul's Boutique on Mont Royal has to say about vinyl: "It will simply never die! French bands like Daft Punk or Justice, they come over here in Montreal partly because they know we have all these record shops. They go to my shop as well. Our main asset is to have these HUGE stocks of vinyl to offer on the spot, which is not the case everywhere".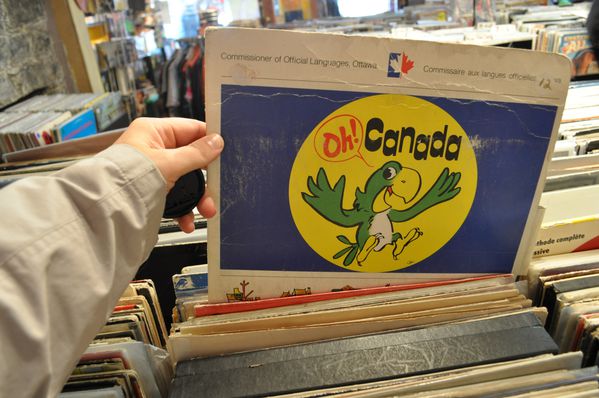 True, Montreal has many great record shops and in another one I could find... an original copy of Townes Van Zandt's My mother the mountain! Keeping it safe enough in my luggage back to France was not easy task but hey, it's all about love.
"But Its just an object"! says the Devil's advocate inside. Well, sometimes you have to shut it up and listen carefully because it's so much more than that. It's a concrete piece of your life playing in front of you.
Special thanks to Rich Walker of 4AD for his kindness and having an impromptu rendez-vous with me in London; the people at The Music & Goods exchange in Nottting Hill for their precious advice as well as Alexandre for his work on the titles and Ariane for the great picture & insights.
And thanks to John Peel!
Sylvain Thuret
October 2009 - ?


Sources
Vinyl LP records - still spinning after 60 years! CBS, february 2008:
http://www.youtube.com/watch?v=tggLYE87Ed0
Martin Scorsese's The Film Foundation:
http://www.film-foundation.org/common/11004/askTheDirector.cfm?clientID=11004&sid=6
An interview with former 4AD's boss Ivo Watts Russell:
http://www.fedge.net/ftww/
Fedge Communications:
http://www.fedge.net/
4AD's website: www.4ad.com
Visceral Pleasures, Rick Poynor, Booth Clibborn Editions.
4AD's august vinyl releases:
http://www.4ad.com/blonderedhead/news/~vinyl-releases-o/
Pitchfork media's article about 4AD's "mixtape" limited release:
http://pitchfork.com/news/38150-new-gang-gang-dance-ariel-pink-on-4ad-record-store-day-compilation/
Perrier, la Danse cosmique, Ridley Scott pour Ogilvy, 1990:
http://www.culturepub.fr/videos/perrier-la-danse-cosmique
Spotify:
http://www.spotify.com/fr/new-user/
Bonus
4AD's unexpected, one and only certified 1987 mass media house hit,
Pump up the volume, by MARRS.
Perrier's ad took notice I guess.