Jean Paul Sartre on wheels: Two Lane Blacktop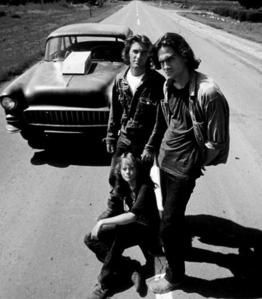 "Lalala lalala lalalalala"
Gordon Lightfoot's Me and Bobby Mc Gee
In the summer of 2005 a restored copy of Two Lane Blacktop allowed movie buffs to get acquainted with a rarefied gem. It was followed in France by the release of a first time strong DVD edition, hot on the Criterium release's wheels.
Two Lane Blacktop depicts the defunct ballad of two free roamers, racing the american land against their own emptiness. Riding a muscled Chevy, they are soon boarded by an uprooted girl who's going to crack their routine… before leaving without a trace. On the road they encounter another lone driver, named after his GTO sports car model. They engage in an offbeat race across America.
How to make the slower race movie, where nothing happens?
Sold to Universal as a race flick, in order to benefit from the kind of "movie on speed" that Easy Rider's success spawned since its release in 1967, Two Lane Blacktop turns every possible way against its "they only live at 140 mph" marketing formula. Thus, the movie opens to a midnight street race, as if instantly delivering the promised package of pure adrenaline through motor speed and gas. Within minutes, a police raid occurs and the show is cancelled. Later on the road their Chevy is passed over by another car. The girl asks to the guys "Wont you race him? He provoked you? Isnt that what you are looking for?" And the answer goes: "No, we could win him over a short distance, but lose it on the run. Its not worth it". Every time a race is triggered, it's a u turn.

In the apocalyptic finale, Hellman stops the motion of the frame to distill the speed as well as to externalize the chaos and vacuum off the Driver's head. This final stand is symptomatic of the movie's approach. These people go nowhere. They think they are burnin up the road, but they just burn themselves. In 1967, Easy Rider said "we want freedom but the country at its core is afraid of what's coming". In 1971 Two Lane Blacktop says "we are free but we don't care".
In his Janis Joplin biography, Jean Yves Reuzeau diagnoses the social and cultural shifting of the era, underlying the present film: "In 1970 the Beat and the flower power movements are in rags and no one seems to pass it over to the next step. The dream for a better world has come to and end".
Fiction VS the big nowhere
Not only the director offers a "no racer", countering Universal's marketing plan, but he opposes two visions of America thrown on its lanes to back up his vision. I think GTO serves an older reflexion of the Mechanic and the Driver. Hanging on the skin of a lie just for good measure, hiding the true motive of his wandering life, he's on the road and he's well over 40. And there's something totally uncool about it.
Jean Baptiste Thoret, in its brilliant analysis completing the recent Carlotta DVD release, goes further. To him, GTO "always tells a different story to the guys he picks up, while the boys don't have any". He represents "America's true cultural root and longing for fiction".

He is America the beautiful, the land of plenty while the two others tell the tale of a wasteland, a vision of our world that George Miller's hardened in his 1979 movie Mad Max.
Monte Hellman refuses to let the speed take over the characterization, or the perfect absence of it, of his protagonists. This duality echoes the lack of America's history, forging its young identity in movement (the far west conquest), speed (the cult of cars) and mass media (comic books, cinema, television and singers).
To say it clear: the land aside, what's left of us? Two decades later, Gus Van Sant took lessons, his movies always throwing one's identity against america's gigantic land… with lesser success in my own opinion.

Sources and recommendations
Two lane black top, Monte Hellman, 1971. (Ed. Carlotta in France)
Point mort, Jean Baptiste Thoret, Carlotta.
Higway to Hellman & Mes dates clefs, by Monte Hellman, Libération, Wednesday 15 june 2005.
Me and Bobby Mc Gee, Laurent Chalumeau, Grasset, 2006.
Janis Joplin, une biographie, Jean Yves Reuzeau, Gallimard 2007.
Cra
sh, David Cronenberg, 1996.
Mad Max, George Miller, 1979.