No Direction Home: Bob Dylan*
By Sylvain Thuret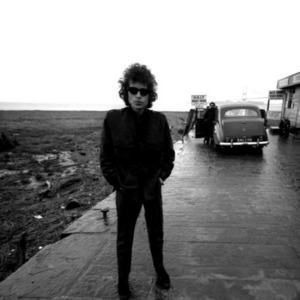 Two geniuses collaborating describes No Direction Home, a documentary of Bob Dylan's early years directed by Martin Scorsese. Originally a two-part program broadcast at he the end of September on public television in the United States, the movie will be released in France on DVD on November 4.

Coming fast on the heels of Chronicles Vol.1, his best-selling 2004 biography, Bob Dylan once again departed from his famous reclusiveness and granted Martin Scorsese an on-screen interview and permission to show film clips of a long-gone era. No Direction Home covers the critical 1967-66 period in which a baby-faced Robert Zimmerman, from the nowhere town of Hibbing, Minnesota, reinvented hismelf as Bob Dylan, stormed the burgeoning Greenwhich Village folk scene, and created a cultural civil war by "going electric".

All the mentor figures he worshipped and met appear in archival footage: Woody Guthrie, Allen Ginsberg, Joan Baez, Johnny Cash, Pete Seeger, Fred Neil, Dave Van Ronk and Al Cooper among many others. Those who are alive and others such as Liam Clancy, Maria Muldaur, comment upon those times in present-day interviews.

Blowin in the wind, Like a Rolling Stone, A hard Rain's Gonna Fall..., Martin Scorsese portrays the origins, the meaning and the history-making live performances of these songs. Here, the young poet is credited for having expressed the socio-political changes of his era -the civil rights movement, the assassination of JFK, the Vietnam war, and the demsontratrions. He claimed to be embarrassed, however to be called the "Voice of his generation." Martin Scorsese recalls a Civil rights ceremony declaration Dylan made in 1963, "theres no left and right to me anymore. There's only up and down. And i'm trying to go up without thinjin'about (...) politics."

Scorsese shows the development of Dylan as a poet from a folk singer to a songwriter. In a rare film clip, we see Dylan playing with the words of a street sign to create a poem spontaneously. In a poignant historic interview, the Beat poet Allen Ginsberg reveals that when he heard Dylan's song he realized the gauntlet had been passed to the next generation. We see him determined to forge his own way, to separate himself from folk music and politics. Showing what seems unimaginable today are scenes of the angry reaction to his going electric, with audiences shouting out "traitor" or "Judas!" during his 1966 English tour, and Dylan's steadfast determination to play as he wished.

Scorsese, who showed his love of music in the 1978 The Last Waltz, a movie of The Band's farewell concert and the recently produced The Blues Miniseries, delivers a solid documentary with a sure hand in choosing and editing the material which comprises previously unseen photographs, movie outtakes, news footage, articles, interviews, and concert performances. It is not flashy, but its power builds up during its three hours length. Whether you are a Dylan addict, or simply interested in cinema or music, it is essential viewing.


No Direction Home, Martin Scorsese, 2005, Paramount.
*L'article ci-dessus a été initialement publié dans le Paris Times de novembre 2005,
mensuel anglophone distribué sur la capitale.